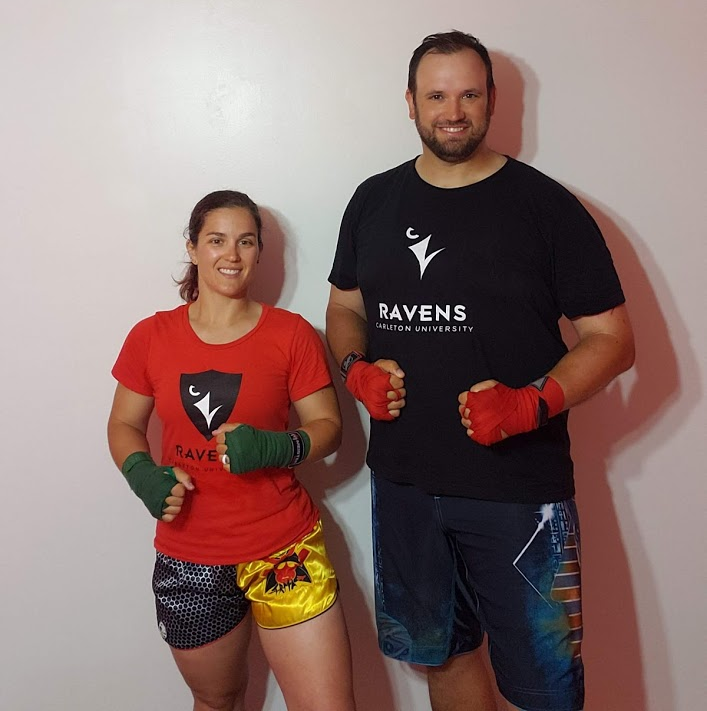 OTTAWA, Ontario —Martial Arts has taken a radical left turn since the start of COVID-19, but Samantha and Martin Fransham have been more than up to the challenge of migrating their Kickboxing & Muay Thai class to an online world. Their class is one of many that are free to access for Carleton Students this Fall.
While taking martial arts classes online may be a new experience for many, the duo of Carleton Ravens fitness instructors takes a progressive approach to the techniques they teach, making for a high-quality learning experience. Choosing to focus on skills and drills that can move from partner drills, to solo drills and back again, the Franshams have an easy to follow teaching style that builds on itself every week meaning that even if you are new to the class you can get caught up while the veterans always have something new to try while improving the basics.
Cycle of Training
New students are introduced to techniques individually, allowing them time to master the individual motions and movements. Once they have the hang of a technique, the students will then combine them together in drills. Every week the Basic Combos are reviewed allowing students to put the building blocks together while letting new students get caught up. Energy Drills test people and force them to use them more dynamically.
This is where students find out what they have to work on and where they are breaking down – they can either speed up or slow the pace as needed. Light Sparring and Sparring are not fighting; instead they are unscripted drills where students get to move dynamically and work on what they have learned. A focus is given to control and teamwork.
Registration for all group fitness classes is now open.
Friday, September 11, 2020 in Fitness, General, News
Share: Twitter, Facebook