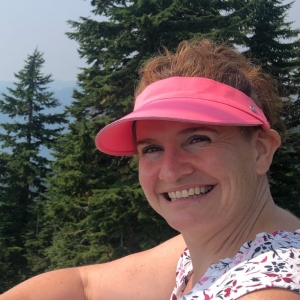 Jane B.
Yoga / Group Fitness
Biography
Certifications Achieved:
500 hr hot yoga cert from Moksha /Moda Yoga
Canfit Pro Fitness instructor cert
Canfit Pro Older Adult Cert
Pilates Mat Cert
Heartwise Cert
About Jane:
What Classes do you teach?
Yoga and Group Fitness
What is your training philosophy?
Having fun is the most important thing to me.
What is your fitness background?
Ballet – age 7-20yr
Aerobics, step, weights, yoga age 20 onwards
Teaching hot yoga as of 2012
Added in teaching barre and pilates
Got canfit cert in 2018
Got older adult cert in 2021
What type of person is best suited for your style of class?
Those with a bit of humour.  I give options for all levels of students.
What advice would you give to someone new to training?
Try a whole bunch of class styles and teachers.
Tell us one unique fact about you
I lived in Scotland for 3 years and worked at Starbucks opposite Edinburgh Castle.
If you would like, share a personal picture of yourself