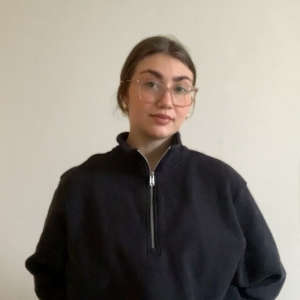 Maija R
Personal Trainer
Biography
Availability
Tuesdays after 5, Saturdays (all day)
Certifications Achieved:
W.I.T.S. Personal Training Certification Level 1
First Aid, CPR/AED
Specialization
I specialize in strength training and weight loss. 
Maija's Training Approach
The best style of training is the one that you enjoy. I believe that the best gift you can give yourself is consistency – keeping the promises you make to yourself. Fitness is a lifestyle, and I want to create a workout routine that helps keep you motivated and builds discipline.  Most importantly, I want you to have fun and look forward to moving your body!  Working out is just as much about your mental wellbeing as it is the physical.  
How Maija Measures a Clients Progress
I assess my clients on an individual basis depending on their personal goals.  Progression looks different for everyone.  For me, the biggest marker of progress is if you are consistently showing up for yourself.  We will go through a series of physical assessments every month to track your physical progress.
Maija's Background
I have been active my entire life playing diverse sports, ranging from various equestrian sports, soccer, badminton, cross country racing – you name it, I've probably tried it.  I started strength training in my first year of university at Carleton and have been doing so consistently for 5 years now.  I started working out to build my confidence and self-esteem, as well as repair my relationship with food. I used to think that I needed to run 10K a day and maintain a super restrictive diet in order to be "healthy," but kept finding myself burned out and unhappy.  The gym was a sanctuary of sorts – not to be too cheesy – where I could block everything out and focus on my own physical and mental wellbeing.  I found a routine that I enjoyed and looked forward to doing every day. I really try to find balance in my daily life, and want to encourage others to do the same.