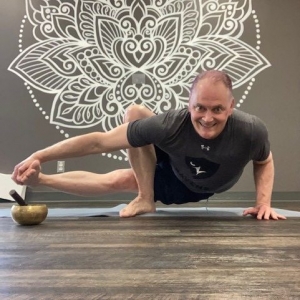 Mark B
Group Fitness Instructor
Biography
Certifications Achieved:
200 Hour Hatha Yoga Teacher Training Certificate Ottawa On Canada 

200 Hour Ashtanga Yoga Teacher Training Rishikesh India

Therapeutic Crisis Prevention Certified TCPI

First Aid AED CPR Certified
What classes do you teach?
Power, Hatha, Ashtanga, Restorative, Yin, Children Workshops
What is your training philosophy?
Mark has an uplifting and expressive practice that has been built from a strong foundation with a mindful focus on anatomy and self reflection.
What is your fitness background?
A gym rat and runner since High School Mark was humbled by illness, hospitalized and given a pretty scary diagnosis. Mark was invited to a yoga meditation and breathing workshop. Each day, got a little stronger and able to do a little more til one day Mark was asked to lead the class. Mark now teaches, but will always be a lifelong student of Yoga.
What type of person is best suited for your style of class?
Mark provides for and welcomes modifications in an all-levels practice that should challenge beginners and experts alike. Respecting the unique biography and biology of each student, allows for the subtle nuances of each individual's mind, body and spiritual journey.
What advice would you give to someone new to training?
Mark accepts that it is Yoga that is the teacher. Mark makes space for the teacher in each student, as Mark is a life-long student in kind. 
Tell us one unique fact about you
Mark, a former white water River guide, paddled the rapids of the Ganges while studying in India.