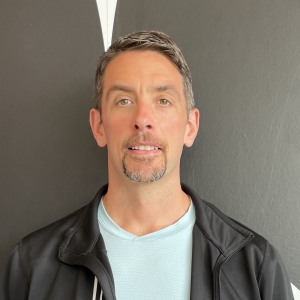 Mark Nadon
Assistant Manager, Fitness and Wellness Programs / Group Fitness Instructor / Personal Trainer
Biography
Certifications Achieved:
WITS Personal Training Instructor / Proctor
Spinning Instructor
Marathon Running Coach Certification – NAASFP
Spartan SGX Coach – Spartan USA
Upper and Lower Body Mobility and Movement Certification – Agatsu
Kettlebell Level 1 – Agatsu
CrossFit Level 1
Can-Fit Pro Personal Training Specialist
About Mark:
What Classes do you teach?
I currently teach CU HIIT Rowing. Join me Wednesday evenings at 5:15pm! With Carleton I have taught Kettlebell, Obstacle Course Racing Technical, Obstacle Course Racing Cardio, Boot Camp, CU Shred, CU Spin HIITS, Learn to Run, and Spin and Kettlebell.
What is your training philosophy?
I believe most people who aren't specializing in a sport or discipline should focus on being healthy and mobile as they get older, which means staying as fit as possible, as long as possible. Training should provide a healthy balance of mobility, flexibility, strength and aerobic conditioning. This balance has kept me training for many years without injury and helped me maintain a good level of balance in all areas of fitness.
Listen to your body, but don't be afraid to ask more of it. Rest when your body is sore. Only push through soreness once in a while.
What is your fitness background?
I have experienced a very wide range of training. Currently, I run long distance races (trail), indoor rock climb and compete in obstacle course racing (Spartan Race, OCR World Championships, etc.). I owned a fitness company called Soldiers of Fitness for 12 years, running civilians through vigorous military inspired training drills. I served eight years in the Canadian Forces Infantry Reserve and learned a lot about pushing myself harder than I ever thought I could. I trained in Brazilian Jiu Jitsu, Muai Thai Kickboxing, CrossFit, and Dragon Boat Racing.
What type of person is best suited for your style of class?
Anyone who wants to work hard and have fun! Your current fitness level doesn't matter, it's the attitude that you bring and the adversity that you're willing to face. I've had twenty-year-old members that preferred lighter workouts, and I've had sixty-year-olds who love my classes and brag about how they can swing from monkey bars with their grandkids again.
What advice would you give to someone new to training?
Do at least some personal training with an experienced trainer. Learn about your joint restrictions so you can address areas you're more likely to injure. Learn about how to move well and target the right muscles during all fundamental movements (push, pull, squat, hinge, rotate). An experienced trainer will teach you how to train yourself, and help you understand their programming decisions. When you start group fitness, look for the same mindset: an instructor that is trying to teach you. Ask for feedback on movements you are doing if you plan to progress to heavier weight so you reduce the risk of injury.
Pushing yourself doesn't mean dropping dead every workout. It means dropping dead on planned days, and training smart the other days.
Tell us one unique fact about you
Before University I went to College for Professional Writing and have written many full-length fiction novels, none that I have yet attempted to publish.
If you would like, share a personal picture of yourself
Me at the North American 15km OCR Championships in Stratton, Vermont, 2019.