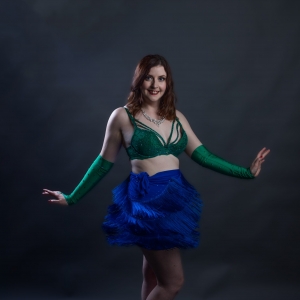 Stormy Divine
Burlesque Instructor
Biography
What Classes do you teach?
Burlesque
What equipment is needed to attend your online classes?
Students are asked to bring various clothing items to class depending on the choreography for the week. Items such as button-up shirts, gloves, stockings, etc may be required.
What type of person is best suited for your style of class?
Any type of person can do burlesque! You will get the most from the classes if you are open-minded, willing to tiptoe out of your comfort zone and have a positive attitude.
What advice would you give to someone new to training?
Be patient with yourself and remember the reason you are taking the class. Have fun, put in the effort and the rest will follow.
Photo Credit: Viktor DeVice