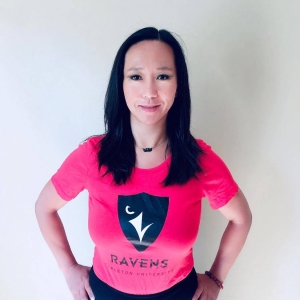 Xiang S.
Yoga / Zumba / Group Fitness
Biography
Certifications Achieved:
CanFitPro – Fitness Instructor Specialist (FIS)
Zumba Basic 1
Zumba Basic 2
Zumba Rhythms 2
Zumba Pro Skills
Zumba Kids
Strong Nation (Strong by Zumba)
Aqua Zumba
Zumba Step
Zumba Virtual Pro
RYT Yoga Teacher Training
Hatha Yoga
Yin Yoga
Yoga for kids
Gentle Yoga
Aqua Fit
Pound Fitness
Barre Above
About Xiang:
What Classes do you teach?
I teach live-streamed/virtual Zumba classes (during the pandemic). I have also taught Strong Nation and Yoga, and subbing a variety of other formats. These include: Aqua fit, 15/15/15, Boot camp, Ballet fit, Strength and stretching.
What equipment is needed to attend your online classes?
All that you really need is a water bottle as well as running shoes (if you are taking the class on hard wood floor)!
What is your training philosophy?
I believe our body needs to move as much as we can, especially when we get older. Our muscles, balance, mobility, strength and flexibility get weaker/looser with age. So, I believe that we need to incorporate physical activities into our daily routine (or at least ensuring we do it once a week) to keep building and improving our mobility, flexibility, strength and cardio condition and keep or build our muscles. The only effective way to do this is to exercise and have a healthy diet. I also believe that our body will tell us what we should do or what we need to do, so all we need to do is listen to our body and do not push too hard when we work out. We also need to be aware of not hurting ourselves when we exercise That is why I believe we all need to have a trainer or fitness instructor to guide us and motivate us.
What is your fitness background?
I've loved fitness since I was a little girl. I have experienced a very wide range of training. I truly love all sorts of fitness training and I have lots of fitness certifications. I've been teaching many types of fitness classes in the greater Ottawa area for the past 4 years.
What type of person is best suited for your style of class?
Anyone who wants to have joy in their wellness experience will be an excellent fit for my classes. I believe that it's so important that the journey to improved health and fitness occurs in a way where people enjoy themselves. Why? Because when you find joy in working out and engaging in physical activities, you keep at it! Consistency brings results, and that's what I hope to help all of my participants achieve. In addition, if you are looking for workouts that allow you to have fun, challenge yourself and push your limits to be your best and see improvement in every class, then you will be a great fit for my class!
What advice would you give to someone new to training?
First, you need know your body well, and do not push yourself too much if your body is not ready. You also need to stretch before you do any workout and stretch again after all your workout as well. If you are very new to training, try to get a professional personal trainer or fitness instructor to help you make your workout plan and to do workout with them together, so that when you get used to do it or you know how to do it in correctly way, then you can go ahead and do it by yourself. With that said, always beware of your body and listen to your body and be careful when doing any workout because you can be hurt yourself if you do not pay attention or overdo it.
Tell us one unique fact about you
Before my fitness career, I have worked in many roles, including: sales, CEO, secretary, booking keeper, accountant and computer programmer. But I found that being a professional fitness instructor is the best job I've ever had. It is my passion. I have lots of creative ideas to share and I plan to do this for as long as I can move!"
If you would like, share a personal picture of yourself
Me in Jamaica teaching a class in March, 2018