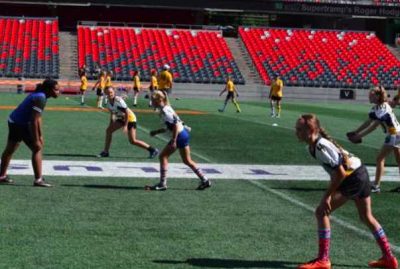 The new Junior Ravens Girls Football program is focused on female athletes who are interested in developing their football-specific skills or learning the game of touch football. This program will focus on the fundamentals skills of football such as route running, catching, pass coverage, and overall knowledge of the game. No gear is required.
Girls Touch Football Details:
8-weeks ($119) of fundamental football skills for all levels of experience instructed by the Ravens Football team.

U12 and U14 age divisions available.

Sundays from January 13th to March 3rd (1:30 pm to 2:30 pm) at the Carleton Fieldhouse.

Competition and games included in the program.
Meet Katrina Follis:
Katrina Follis as our new Program Coordinator for the Jr Ravens Girls Football program.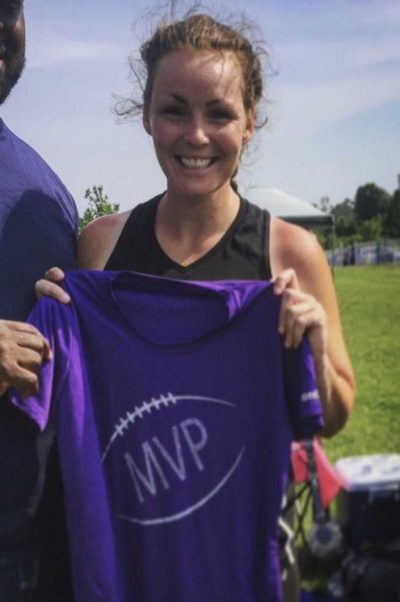 Katrina Follis has been playing football for 18 years and is a current member of the 2nd ranked Toronto Storm Touch football team. Along with playing football, Katrina has also coached a Varsity Girls touch football team with the OCSB for 5 years.
Katrina's Accolades:
·         Recipient of the ONTFLs 2017 Career Achievement award.
·         5 Time ONTFL MVP Award Winner
·         7 Time ONTFL Top Scorer Winner
·         3 Time Top Defense Award Winner
·         2013 recipient of the Ottawa Sports Awards touch football individual sport winner
For program specific questions contact Camp Director, Josh Sacobie, joshua.sacobie@carleton.ca
Registration by phone or in person is on available during our hours of operation. Register online 24/7. To register in person, visit our Welcome Centre in the Alumni Hall.
Wednesday, December 12, 2018 in General, News
Share: Twitter, Facebook