Our Members
Lissa is on Canoe Kayak Canada's Sprint Kayak team. Hear why the HPC  works for her intense training.
Tim is a faculty member at Carleton. An injury landed him at the High Performance Centre. Listen to his journey to recovery.
Program Descriptions
Team Training
Your team or organization can benefit from the knowledge and expertise of the HPC strength and conditioning staff. Book team training sessions for in-season or off-season training, no matter what the sport or activity our certified staff have the tools to develop scientifically based programs at our strength and conditioning gym for your athletes. These team training sessions will include scientifically based training programs and elite level coaching from the HPC staff. Team testing and performance evaluations can also be provided to outside teams and organizations at an additional cost. Whether you are looking to maximize your potential in-season or stay ahead of the competition in the off-season we can provide you with the expertise to ensure your team and your athletes are getting stronger, faster and avoiding unnecessary injuries.
Cost
Half Facility Rental (15 athletes or less) = $170/hr + HST (an additional cost of $5 for every athlete above 30 athletes)
Team Testing = $500 + HST
** An initial and follow-up team testing session will be included for all purchases of 10 or more team sessions.


Individual Athlete Memberships
There are a variety of individual athlete memberships available at the High Performance Centre (HPC) Athletic Gym. Prices vary based on the length of your membership, as well as the number of days that the athlete wishes to train each week.  Memberships 3 to 5 days per week include a comprehensive individual assessment including, anthropometric measurements, functional movement and manual muscle testing and performance testing designed to measure the attributes necessary for each athletes chosen sport. Individuals looking to purchase a 1 or 2 times weekly membership are required to pay a $50 assessment fee.  The athlete will then be provided with an individualized strength and conditioning program based of the strengths and weaknesses derived from their initial evaluation. Our qualified staff has the expertise to help you reach your goals, whatever they may be.
Athletic Performance
Reconditioning/Rehabilitation
General Health and Wellness
Individual membership training times are subject to availability. Please contact for current available training times.
3 Month
| | | | |
| --- | --- | --- | --- |
| Individual Memberships | Cost | Sessions | Cost per session |
| 1 session/week | $225 | 12 | $18.75 |
| 2 sessions/week | $450 | 24 | $18.75 |
| 3 sessions/week | $675 | 36 | $18.75 |
| 4 session/week | $900 | 48 | $18.75 |
| Elite Level Memship (5+ sessions/week) | $1,500 | N/A | N/A |
6 Months
| | | | |
| --- | --- | --- | --- |
| Individual Memberships | Cost | Sessions | Cost per session |
| 1 session/week | $405 | 24 | $16.88 |
| 2 sessions/week | $810 | 48 | $16.88 |
| 3 sessions/week | $1,215 | 72 | $16.88 |
| 4 session/week | $1,620 | 96 | $16.88 |
| Elite Level Memship (5+ sessions/week) | $2,700 | N/A | N/A |
Other Services
Take Away Programs
For athletes that are not from the Ottawa area or who can't make it to the Carleton University HPC on a regular basis for training, we offer take away programs. Each take away program includes a full assessment, and an individually designed program. A one hour follow up session to coach the athlete through their new program is also included.
Cost
$350 + HST
Staff Bio
Nick Westcott, B.A Exercise Science, CSCS
Head Strength & Conditioning Coach & Manager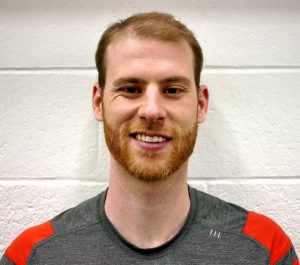 Nick has gathered a wealth of experience in the field of sports performance and athlete reconditioning:
Head Strength and Conditioning Coach at Carleton University
Strength and Conditioning Coach with Hockey Canada's National Women's ProgramsLead
Strength and Conditioning U18 World National Team 2015-16
Strength and Conditioning Consultant with Ringette Canada Senior and Junior National Teams
Head Strength and Conditioning Coach Florida Everblades ECHL (Kelly Cup Champions 2011-2012)
Have worked with a plethora of athletes from NHL, KHL, CFL, ECHL, OHL, NCAA, CIS, national team athletes for various countries, as well as professional and amateur athletes participating in various sports.
Certified Strength and Conditioning Specialist through the National Strength and Conditioning Association
Certified FMS professional through Functional Movement Systems
Published in the European Journal of Exercise Physiology
Graduate of Castleton State College, B.S, Exercise Science
James Clock, BHK, Bed, MSc Sports Performance, ASCA, CSCS
Assistant Strength & Conditioning Coach
James lives and breathes athletic performance and coaching; having travelled around the world developing his craft through a variety of sports and skill levels, his athletes experience results by design, not coincidence. While drawing on past experiences and tricks of the trade, he is also firmly committed to continued education and progressing the profession.
U20's Strength and Power Coach at the Manly-Warringah Sea Eagles
Assistant Strength and Conditioning Coach at the New South Wales Institute of Sport
Assistant Strength and Conditioning Coach and Rehabilitation Coach ESS Performance
Athletic Performance Unit Trainee at the Greater Western Sydney Giants Football Club
Peak Power Sport Development Strength and Conditioning/Research Intern
Edinburgh Napier University Knights Strength and Conditioning Coach for Football
Active Life Conditioning Athletic Performance Intern
Individually has worked with athletes at the National Level (Canadian & Australian), Provincial and State Level, as well as numerous Professional Athletes through to Development and Talent ID Levels