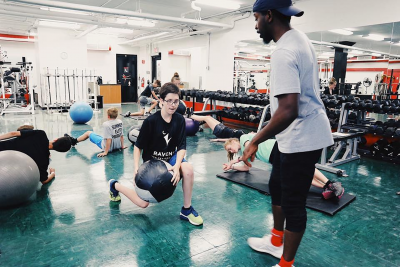 Registration for our 2024 Ravens High Performance Conditioning March Break Camp will open on Monday, November 27 at 9:00am
REGISTER: High Performance Conditioning March Break Camp (Ages 13 to 16) - $428
Participants will have a chance to work directly with the Ravens strength and conditioning team to build a profile of the ideal strength, power and movement training regime for their age, sport and personal physiology. Additional classroom based sessions such as sports psychology, nutrition and performance therapy will also be included. The goal of the strength & conditioning program is to work towards a holistic approach to performance development.
Each day participants will spend up to 3 hours per day working in our High Performance Centre and on our track with strength and conditioning coaches. The remainder of the day athletes will be able to participate in some of the sport options offered in the Ravens Multisport camp program such as ultimate, basketball, spikeball and soccer. An optional end of day swim will also be provided.
Please note that a full cafeteria LUNCH IS INCLUDED with our March Break camps. No outside food is allowed inside the dining area. Our cafeteria has a selection of vegetarian, gluten free and Halal food options. Parents are encouraged to pack a peanut & tree nut free snack for later in the day.
Age Range
Athletes who are between 13 and 16 years old
Dates & Times
March 11, 2023 to March 15, 2024
Price: $428 + HST
The hours of the camp are from 8:30am to 4:30pm daily

Drop off is from 8:30am to 9:00am
Pick up is from 4:00pm to 4:30pm
Drop off & Pick up will take place in our Fieldhouse building
Register
Registration by phone or in person is on available during our hours of operation. Register online 24/7. To register in person, visit our Welcome Centre in the Alumni Hall.