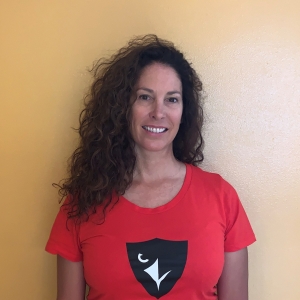 Pamela F.
Group Fitness Instructor
Biography
I started out training to be a professional dancer in the mid-80's which introduced me to the Pilates Method. I had a serious foot injury that ended my dance career, so I studied to become a Reflexologist.  During that time I became an ACE (American Council of Exercise) certified personal trainer. After a brief interlude in another career, I became certified in the Pilates Method by the world renowned Dianne Miller in Vancouver. Fully certified in all mat and Pilates equipment. I ran my own studio downtown Ottawa for 10 years.  I continued my love of learning by studying with Guy Voyer to become a soma-therapist, ELDOA teacher and myo-fascial stretching specialist.  Further down the road I also certified in Yoga Tune-up, Essentrics Level 1, and most recently in Stick Mobility Level 1 and Level 2 in San Jose, California with the founders. Most recently, I have achieved my Level 2 Essentrics certification.
If you are new to training, start gently and move in smaller ranges of movement. As your body gets use to moving again you can move larger, faster and push more. The KEY is to always listen to the messages the body is sending you and if you are experiencing undue pain, you're probably pushing too fast and too hard.
Certifications:
March 9th, 2021 – Essentrics Level 2
Oct 27th, 2019 – Stick Mobility Level 2
May 26th, 2019 – Stick Mobility Level 1
Dec 14th, 2017 – Essentrics Level 1
June 16th, 2013 – Yoga Tune Up Level 1
Aug 8th, 2011 – Zumba Basic Steps Level 1
Sept 25th, 2008 – Diploma of Soma therapy from the Sutherland Academy of Osteopaths of Ontario   (This includes ELDOA and Myo-fascial Stretching)
Jan 20th, 2006 – The Dianne Miller Pilates Studio – All apparatus
April 30th, 2004 – Anatomy in Clay
April 26th, 2002 – The Dianne Miller Pilates Studio – Mat and Reformer
Aug 31st, 1995 – Foot Reflexology with Reflexology Association of Canada
March 31st, 1994 – The Canadian Society for Exercise Physiology
May 31st, 1993 – American Council of Exercise – Personal Trainer
Fall of 1991 – BA in Fine and Performing Arts from Simon Fraser University (studies in Kinesiology)