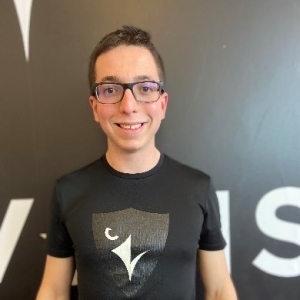 Daniel Z
Group Fitness Instructor / Personal Trainer
Biography
Certifications Achieved:
W.I.T.S. Level 1 Personal Trainer
TRX
Agatsu Kettlebells
Yoga
Yoga Tune Up
The Roll Model Method
StrongFirst Kettlebell Level 1
What classes do you teach?
At Carleton I teach CU Drop-In 45, Kettlebell and Hatha Yoga
What is your training philosophy?
Do what others won't today to be able to do what others can't tomorrow!
What is your fitness background?
When I was a teen, I started working out with a TRX in my backyard with my sister. I later joined a gym that focused on group fitness, specifically TRX and kettlebells. I quickly found a fascination with kettlebells, and everything that can be done with them. I realized I needed to work more on my mobility, which led me to start practicing yoga. I ventured into CrossFit for a short period of time. I then came back to my first and favourite ways of exercising by way of TRX and kettlebells. I have had many goals throughout my fitness journey, but one thing stays constant, I want to be stronger and better than I was yesterday.

What type of person is best suited for your style of class?
Everyone is welcome! If you are willing to try something new and challenging then you are in the right place!

What advice would you give to someone new to training?
Do not be hard on yourself! You are already doing great by deciding to come and train!

Tell us one unique fact about you
I can juggle kettlebells, and 3 balls (not everything at the same time – yet!)

If you would like, share a personal picture of yourself