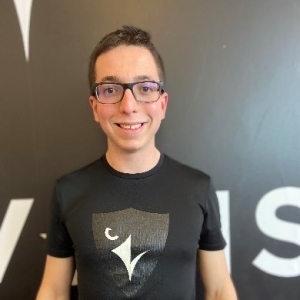 Daniel Z
Personal Trainer
Biography
Availability
Not currently taking on new clients.
Certifications Achieved:
StrongFirst Kettlebell Level 1
W.I.T.S. Level 1 Personal Trainer
TRX
Agatsu Kettlebells
Yoga
Yoga Tune Up
The Roll Model Method
Specialization
I specialize in strength training, mobility and building habits around fitness.
Client Success Story
I have helped many clients develop their strength, one of my favourite experiences was a client who was convinced that she could not do a single pushup and after working together for 3 months she was doing 5 unbroken pushups from her toes. Her dedication and consistency paid off and she is still on track with her fitness journey, setting new goals and learning more about herself through her movement practice.
Daniel's Training Approach
For me, fitness does not happen only at the gym. Fitness is something you live with, and it never ends. You do not have to be perfect, but you have to be willing to put in the work and to stay consistent. Strength is a skill, and the more you practice it, the better you get at it. I am a firm believer that being stronger can make your life easier, not only at the gym but at work, at school and in any other scenarios you can think of. We learn a lot about ourselves when we train, and you can take those lessons into other parts of your life.
How Daniel Measures a Clients Progress
I like to track as many things as I can. You will catch me writing down as many numbers and stats as I can during your sessions so that in the future we can compare and see how far you've come! There is much more to fitness than lifting heavier, but something as simple as how you feel after doing the same workout is a great way to know if we are heading in the right direction.
Daniel's Background
2nd year of my undergrad here at CU was getting the best out of me. I had taken a bigger bite of things than I could chew, and I was not sleeping well, not eating well and the biggest movement challenge I had was going up stairs in the University Centre. A friend recommended yoga, and after a few months I was ready to take my yoga teacher training. Once I was practicing yoga a lot more often, I found that my strength was stopping me from getting more out of my yoga practice. I found a kettlebell gym and I started working out regularly. After a few months I wanted to learn more, and I did my personal training certification. The learning process never ends and if you bump into me, you can ask me what I'm currently learning, and I'll be happy to share some knowledge with you.