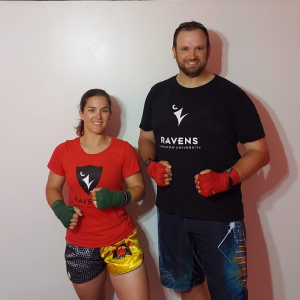 Sam and Martin F.
Group Fitness Instructor
Biography
We have been involved in a ton different activities over the years. We have been in Obstacle Course Racing and regular runs like the Army Run and Glow Run. Martial Arts has taken us all over North America and beyond. Whether that was a cruise to learn from some of the best Brazilian Jiu Jitsu or Detroit for boxing lessons. You will also find us on the Circus scene performing Aerials for events like Winterlude and Nature Nocturne.
Martial arts is wonderful because it caters to all personalities and people. Are you looking for a fast-paced, sweat filled worked out with a competitive edge? Come to our Muay Thai and Kickboxing class or Ballistic Boxing Classes. Interested in learning a Martial Art but you are a little shier and not sure what side of Martial Arts you will enjoy? Come to our Self-Defense Class.
We believe that absolutely everyone can learn Martial Arts and get something out of it. Whether that is to learn new skills, get in shape or just to get together and socialize, there is room in Martial Arts for you. Physical Fitness is great regardless of what age you are and it has been likened to "Human Chess." No matter how long you have trained, there is always a new layer to unravel and a new puzzle to work through. Martial Arts is as much about external goals as it is about internal goals. The great thing is you get to decide both.
Certifications:
Muay Thai Ontario Registered Coaches
20+ Years of Combined Martial Arts Experience
Numerous Medals and Competition Victories
Pre & Postnatal Coaching Instructor (Sam)
Kettlebell Certified Instructor (Sam)
Aerials and Trapeze Coach (Sam)