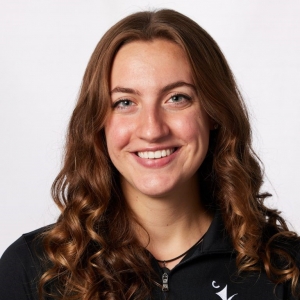 Erika E
Group Fitness Instructor
Biography
Certifications Achieved:
Hockey Canada Coach LVL 2
First aid and CPR-C
Livingworks Start
What classes do you teach?
Ice Skating Beginner and Intermediate
Adult Ice Hockey Beginner and Intermediate
What is your training philosophy?
It's all about progress, not perfection! I want to help you build your confidence on the ice and see improvements in your skating.
What is your fitness background?
I have been skating for 17.5 years, and I am a former member of the Carleton Ravens varsity women's hockey team. I have taught private and group hockey skills sessions, coached hockey camps, and recently began teaching group skating classes.

What type of person is best suited for your style of class?
Anyone who wants to become a better skater or improve their hockey skills! If you're always wanted to learn how to skate but have never tried, you already enjoy an occasional canal skate in the winter but want to become better, or you want to work on your hockey skills, I will work with you to achieve your goals.

What advice would you give to someone new to training?
Don't be afraid to challenge yourself! It might seem intimidating, but the only way you will improve is if you try new things. I strive to create a positive, inclusive, and supportive class environment where you can feel empowered to try every skating drill and exercise.

Tell us one unique fact about you
I love dogs and will more than likely ask you if you have one (and to share a photo!).

If you would like, share a personal picture of yourself