After ten years in the Ottawa community, Junior Ravens Football is well on its way to introducing 10,000 youth to the sport by 2025. From that first cohort of 130 community members in 2013, before the Ravens had even returned to the field, thousands of youth, aged 6 to 18 have safely been introduced to the game of football by the program.
Today, the program has grown, keeping its safety-first focus and striving to help kids fall in love with football while also growing to cater to those who are serious about maximizing their athletic potential.
Ravens coach Josh Sacobie has been at the helm of the program since it began in 2012. The teams' Quarterbacks Coach and Manager of Programs admits the program took off faster than they could have dreamed. The Ravens program, which borrowed its early model from the successful Laval Rouge et Or program, has quickly grown into a key part of the Ottawa football community.
"They were having success on the football field at that point, and they were giving back to the community. So we took a look at it and got resources, even met with some of the coaches and then we made it 'Carleton.'"
A first step in making the program feel like Carleton was removing barriers for members of the community who wanted to try football for the first time. The Ravens immediately sought to make the program more accessible to the community by purchasing equipment so that children could try the sport without a large financial commitment. "If you want to participate in football, the clubs loan you that equipment or you have to go through the club to get that equipment to participate," explained Sacobie. "It's not like other sports where you going to have to buy it. We took that barrier away and when we purchased all that gear and in our first year."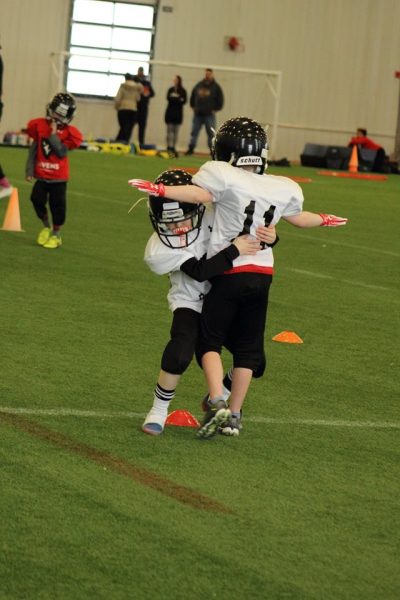 With new gear also came a new logo. As the Ravens were preparing to return to the field in 2013 that first group of Junior Ravens would be the first to wear the new logo. "We had a full Junior Ravens scrimmage in two teams before the Ravens university football team took the field in August."
Sacobie admits that the program coming before the team played a key role in connecting with the community.
"They were kind of the first. That was one of the slogans we used back then was 'Be First' and the Junior Ravens program in 2013 of 130 kids were the first football program back."
As the Junior Ravens ushered in the return of football to campus, young student-athletes waiting to suit up for the team that fall would gain experience coaching in the program. "We were able to use some of our student-athletes to develop as young coaches," said Sacobie. "We gave them ownership and let them be able to contribute in their own way making it a fun, safe, enjoyable environment for kids returning and new players."
One of the players who immediately jumped at the opportunity to work with the Junior Ravens was local Raven Stefano Napolitano.
"I was 18 at the time," explains Napolitano. "I just started playing football at 10, so to be able to see kids in the same position as myself, football had given me so much as a kid, and to teach kids how to play and teaching them the safety aspect, it was a pretty special opportunity."
Napolitano would continue coaching with the Junior Ravens throughout his time at Carleton and is now a coach in the community. Reflecting on his time with the Junior Ravens program, Napolitano admits that it was a special time.  "It's pretty special growing up my whole life in Ottawa, to stick around at Carleton, and to be part of the coaching staff made me feel like I was part of the team before we ever got started."
Napolitano admits that the Junior Ravens program was a great piece to help him transition to coaching after his playing career. "Junior Ravens is a great program; I never really got an opportunity to do something like that as a kid." Today, the experience as part of the original Junior Ravens staff still resonates with Napolitano. "To be able to coach kids in the city, it really was special, for them to see the university level players and share my story, whether they made it to university or played football longer it's a ripple effect and it's really cool to see."
From Junior Ravens to Football Prospects
In 2021 there were seven Junior Ravens on the Carleton Ravens roster including one that Napolitano had the opportunity to meet through the program. "I actually got to coach one of those future Ravens, in Nathan Carter, and he's up there in the record books now."
While former Junior Raven Nathan Carter sits atop the record book as the program's all-time leading rusher he's not alone. He joined in the record book by former Junior Raven Brandon Forcier who burst onto the scene with the Ravens in 2021, setting a program record with 10 consecutive field goals to begin his OUA career.
As a soccer player, Forcier was introduced to football as an opportunity to keep busy and try a new sport, but as Forcier developed, he needed more than local programs could offer. Introduced to the Football Prospects program Forcier was instantly engaged in the high-performance focus of the program.
"I joined in the first year of the prospects program, in 2018, and the biggest thing for me was that you got two times a week in the [High-Performance Centre]." As a football prospect, the opportunity to get into the gym with current Ravens intrigued Forcier. "It wasn't only coaches and trainers, it was players on the team. At the time I was 18, one of the oldest guys in the program, but I was close enough in age to the guys on the team to see where they were at and where I'm at."
For Forcier, that exposure to OUA athletes, the training and preparation they put it was a jolt his career needed. "It was a kick in the behind that showed me I needed to push myself into full gear and get caught, for me, at that age, it was a spark that had been ignited."
For Forcier, the exposure to OUA athletes and training facilities was an opportunity to test his limits and see how he measured up against student-athletes at the next level.
"You get to see how they work, how they mentally prepare, and it puts you in check, at an age when you think you have what it takes, and it really put me in check."
The exposure to older Ravens, and to former members of the program helped Forcier push his development to the next level.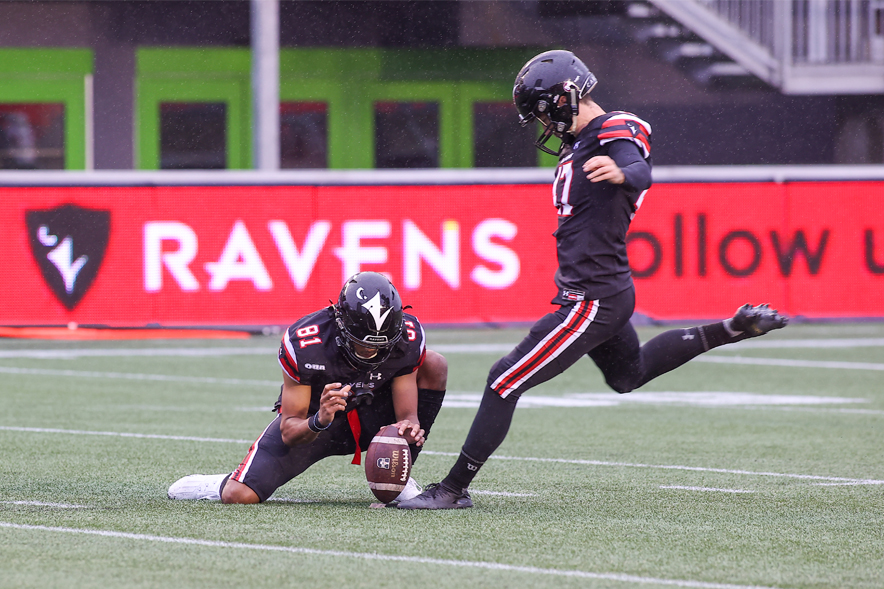 "They don't hold back, they are going to push you to the next level, whereas in high school they can only push you so far in comparison to the rest of the team. Having the Junior Ravens, and having these guys to constantly talk to, my football IQ just kept getting better and better, it was a huge game-changer."
As a player who only first started playing football at 13, Forcier credits the coaching to helping his rapid development. "I got to meet Mike Domagala, and he gave me some pointers that really put me in the right direction." Working with a CFLer in Domagala, Forcier recognizes the value of having the players as coaches. "With Mike coming in there as a current kicker, he could really show me what to do in a specialty position and I really got to see what it takes to do it at that level."
Forcier looks forward to his opportunity to get involved with the program. "I would love to help out, it's something I want to do. I love coaching, I want to help the next generation and I look forward to making a difference.
Equitable Growth
As the Junior Ravens program evolved to meet the needs of the community, so too have the players. Today, Junior Ravens can be found playing across the OUA, coaching across Canada and giving back to the game at the grassroots level. As football continues to grow in popularity Sacobie and the coaches hope they will continue to see more female players use the program as an opportunity to take up the sport.
As interest in the program grew, so too did the demand for more options for young girls. Sacobie admits as the program grew there was a gap in their coaching staff. "When we started seeing female participants in our camps and how important that was we would look around and we had no female coaches, so I knew that we could do better in that area." The Ravens quickly called an audible and started expanding their programming.
"We developed a girls football program within the Junior Ravens Football umbrella and we ended up training some female coaches who would later coordinate that program for us and it helped with our participation and the growth of our participation in the sport for females."
One of those first female coaches was Alexis Groulx, a member of the Ravens women's rugby team, Groulx quickly left her mark on the program, bringing a rugby perspective on safe tackling to the program. "She gave us a different perspective on tackling from a rugby point-of-view," acknowledges Sacobie. "Having met with her, she helped us add to our safe contact tackling program and put her stamp on it." Drew would go on to become a coordinator for the program, helping other players and coaches to develop.
Reflecting on his time with the Junior Ravens, and his current experience in the community, Napolitano remembers working with the female participants.
"Seeing female players participate through the years, and then running into them coaching in the community, was a really cool feeling. Over the years more and more girls have been joining and that's great for the game."
Over time, the Ravens program has grown, expanding to allow players 14-18 to continue to develop within the program while sticking with the grassroots goal of introducing players to the game. Today football players from 6 to 18 can experience football under the Junior Ravens umbrella, learning the basics, developing safe techniques, and learning to love the game.
As the next group of Junior Ravens Football players takes to the turf in the field house this winter, Sacobie acknowledges there's still work to be done to reach 10,000 players.
"It's a number, but it keeps us motivated to make sure that we are providing a safe and fun environment for youth football players in Ottawa. We're going to continue to chase that goal of ours, football is a great sport, and we want to make sure that it's available to anybody that wants to play."
---
Learn more about Junior Ravens football and the full offering of Junior Ravens programs. 
Friday, February 11, 2022 in Community, Junior Ravens, Junior Ravens Football, News
Share: Twitter, Facebook