Carleton University Introduces a Football Development Program for Girls
By Ally Mirabella-Conlon
Since their return in 2013, the Carleton football team has been running a development program for local Ottawa kids ages 4 to 17. The option for young girls to join was never offered, until now.
Starting January 13, a Junior Ravens football program designed for female athletes was put into effect. The decision was made by members of the team's staff, including Junior Ravens program coordinator, Joshua Sacobie;
"As the program grew from 119 players in the first year to 550 today, it was evident that girls wanted a program to call their own."
Jennifer Brenning, assistant vice-president of Carleton Athletics, said that since the launch of the football camp, the university has implemented four other Junior Ravens' programs: baseball, fencing, basketball and soccer.
Each of these programs are great for community outreach by providing young players with the opportunity to learn a sport, see Carleton's student-athletes at work, and experience the campus all while sporting the Ravens brand.
Sacobie stressed how important it is that the girls involved feel as comfortable as possible, being that football has the negative label of being a male-dominated sport.
"There have been a couple of girls at my practices," said Ethan Reynolds, 15, who has been a participant in the program since it started. "They've been tough and I'm excited to see what the new program has for them."
Corinne Reynolds, Ethan's mother, now has all three of her children registered in the Junior Ravens program. She explained how ecstatic she is to see how the new camp will benefit her 12-year-old daughter.
"Because of my daughter's size she had really low self-esteem. I tried to get her into tackle football, but it just wasn't for her."
"When coach Sacobie approached us and asked if she would take part in the girls camp, we were the first ones on board," said Corinne Reynolds.
With 34 girls registered, the newly hired girls program coordinator Katrina Follis couldn't be happier.
"I don't think that there are any other development programs at this point in time for girls," Follis said. "The involvement of Carleton with the community is extremely helpful in developing the sport. Right now, I am all for building girls football and I think that starting at the grassroots level is really important."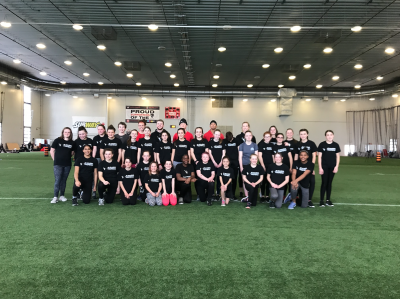 For coach Sacobie and the rest of the Junior Ravens team, the main goal is creating a space for girls to play the game.
"We want them to have a place where they can open up and be in an environment where they can relate to each other's experiences," he said.
Due to the fact that they aren't playing a tackle game, the girls focus on three main skills: catching, throwing, and coverage.
The touch aspect of the program is one that appeals to most girls who chose to register, including Corinne Reynolds' daughter, Hailey, who has long hoped a program like this would surface.
"I'm not a child that likes hitting people, I've been bullied and it's not fun," Hailey Reynolds said after finishing one of her sessions.
"To get my anger out, I didn't want to put it into tackling and hitting, I wanted to put it into running. When we found this program, I immediately wanted to do this and I am very happy I did," she said.
Each week, the girls' coaches find themselves reiterating a motto that they hope the kids will live by: if you're going to be wrong, be wrong and strong.
"The confidence the girls get by acquiring these skills is probably the most important thing," said Follis. "Then learning to actually do something with all their heart, even if it's new, to put that effort in right away."
Building their confidence along with teaching the fundamentals of the game is what makes this Junior Ravens special and appealing to both the parents and players.
"I can't thank the coaches enough for coming out on weekends and giving their time," said Corrine Reynolds. "Most of them are university students who come out and build such a positive atmosphere. My kids look up to every single one of them."
"I think this is one of the top-notch programs, whether it be for boys or girls," Corrine Reynolds said.
Being that Carleton only has a men's football team, the question of necessity for a girl's program was raised.
"I think it was an excellent program to introduce to our Junior Ravens programs," said Brenning. "This will have a positive impact on the community as girls are given the opportunity to learn the sport."
The girl's football program continues this spring at Carleton University on Sundays from May 12 to June 16.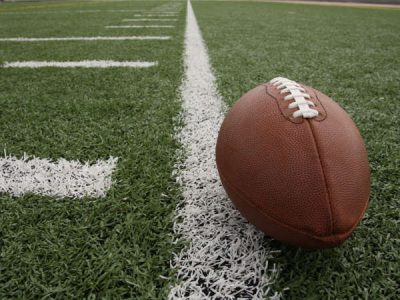 Wednesday, May 8, 2019 in Camps, Community, Junior Ravens Football, News
Share: Twitter, Facebook