Children of varying ability and skill took to the court to participate in Carleton University's first Junior Ravens wheelchair basketball program.
Funded in part by Jumpstart's Sport Relief Fund, the program teaches the basic skills of wheelchair basketball. Participants learn pushing technique, dribbling, passing and shooting.
"This program provides the best opportunity possible for children and youth with disabilities to enjoy wheelchair basketball in Ottawa," said Josh Davies, a coach for the program. His experience includes membership on Canada's national junior wheelchair basketball team.
Echoes of encouragement could be heard throughout the Norm Fenn gymnasium as these young athletes learned new skills. "You've got this!" "Keep going!" "Push!"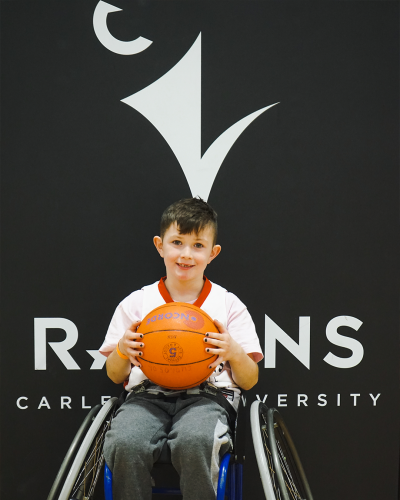 As is the case with anything, trying something new can be daunting. A young participant sat out the first half of the practice, too nervous to jump in. Once the basketballs were brought out, he was right into it. During the scrimmage he could be found right under the basket, scoring numerous points for his team.
At the end of the session, this young athlete could be heard saying to the coach, "next week, I'm gonna participate the whole time. Don't let me forget how much fun I had."
"I grew up playing wheelchair basketball, and 15 years ago, a program of this magnitude seemed unfathomable. To have the opportunity to coach these great athletes in this amazing place is an honor," said Sam Graham, a coach for the program.
During the December 1st lesson, participants learned about offence and defence. They practiced putting their big wheel in front of the offence to ensure they couldn't make a shot. Offensively, they practiced deking out the defence. They worked on getting around their opponents.
These skills can be tricky. Of course, at first it takes a minute to grasp the concept. By the scrimmage, the athletes were showing their skills and putting these drills to use.
Junior Ravens Wheelchair Basketball is run in collaboration with the Ottawa Carleton Wheelchair Sports Association (OCWSA) and the Abilities Centre Ottawa (ACO).
"This program is revolutionary in the sense that never before has a local adaptive sports organization been able to partner with a major university organization to deliver accessible and inclusive sports programming at a state-of-the-art facility," said Graham.
Thanks to the Jumpstart grant, the Junior Ravens Wheelchair Basketball program is able to provide equipment for participants. 12 brand new wheelchairs were purchased to support the program. While some brought their own wheelchairs specific to the sport, others utilized those provided by the university.
The wheelchairs specific to the sport are lightweight. They are designed to create speed, agility and stop players from getting locked to each other. Having the right chair is important in playing the game.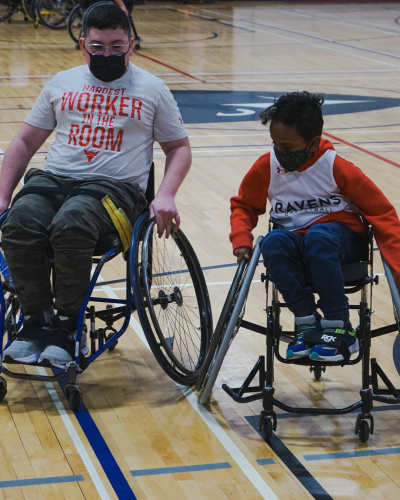 The coaches and facilitators of this program are also critical to its success. Both Graham and Davies were quick to credit Emily Glossop from Abilities Centre Ottawa. As a recreation therapist in Ottawa, Glossop has introduced numerous children to adaptive sport, including Graham.
"She is an outstanding pillar of the adaptive sport community here in Ottawa and we are privileged to be able to work with her," said Graham.
Glossop and the other coaches create a supportive environment in which it doesn't matter your skill level or experience. Everyone is welcome and everyone can learn to play wheelchair basketball.
Already off to a great start, the Junior Ravens Wheelchair Basketball program hopes to carry the momentum forward.
"With all of the support around us, this program is setup for success for years to come," said Davies.
The winter session of Junior Ravens Wheelchair Basketball will start on February 8, 2022.
To register or learn more, visit the Junior Ravens Wheelchair Basektball page.
Thursday, February 3, 2022 in Junior Ravens, News
Share: Twitter, Facebook